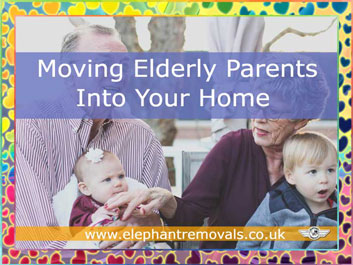 Moving Elderly Parents Into Your Home
Should your ageing parent move in with you? Moving elderly parents against their will would be a wrong move. In any case, it is important that your venerable senior age parents are involved in their care plan.
Living with elderly parents is a big decision and requires a lot of honesty from everyone involved in the move. This info on moving elderly parents into your home is second to none.
Moving in with Elderly Parents
Remember some facts about childish behaviour in older adults. The more a person moves towards ageing, the stress of unable to do a lot of things, amnesia, depression and other failing health condition turns into anger. Hence, why senior citizens start to act more like a child. At this age, becoming stubborn and demanding of their children is the natural phenomena of old age, so do not be surprised with a God given gift as you could be next.
Whether you are moving in with your respected elderly parents or relocating elderly parents with you, the mature choice to dwell under the same roof would also mean a pay-back time. The key to living together as a happy family lays on compromises, giving each other flexibility, cooperation and a good team work, whilst patience is the key to success.
Moving Elderly Parents Out of Their Home
Here are some questions you should ask yourself. Before moving ageing parents into your home.
Do your parents want to move in with you?
Do you have enough space to care for elderly at home?
Is your home suitable for an elderly person?
Would the move mean adding an extra bedroom or bathroom?
Can you afford the extra expense?
Would your spouse be happy for your parents to move in?
Will you have to change your families routines?
Will you have to quit work to look after your elderly parents?
How will the move involve my spouse, children, and siblings?
Do you expect other family members to pitch in?
Do you need to sort out any drinking, smoking or pet issues?
Will you take your parents on holiday with you?
Are there issues such as smoking, drinking or pets that we need to work out?
How will you establish boundaries?
How do you feel about accepting this role?
Helping Elderly Parents
Here are some questions your parents should ask themselves.
How do I feel about being dependent?
Am I able to be in the company of family for long periods of time?
Will I be able to go take part in my usual activities?
Will I be able to watch my favourite TV programmes?
Will I be able to live with my child's habits?
Will I feel like I am intruding?
Can I financially contribute to my living expenses?
Do I get on with my son/daughter in law?
If their house needs remodeling because of me, can I contribute to the cost?
If they have young children will I be able to cope with the noise?
Moving Elderly Parents Nearer
Your elderly parent may want to move nearer to you for various reasons:
Perhaps so you can see them more often to support them.
Grandchildren can visit them more often if they live nearer to them.
Maybe it is time for them to downsize home and they have to move, perhaps moving closer to you may be the best option.
Moving elderly parents nearer will require organisation. The amount you are involved in their move depends on their mental and physical health. It is important to discuss their needs with them.
Moving Your Loved One into Your Home. Here is our checklist that can help their move go smoothly with our popular house removals London service.
Checklist for Moving Elderly Parents into your Home
Declutter. Here is our guide to help you get rid of your parent's clutter on our How to Declutter Your Home Fast page. Remember to consult with them before giving their belongings away!
Help them with their packing. There is a lot of bending and lifting involved in moving. Our checklist will help you move without stress or you can hire our professional packers to help with packing services of their move.
Buy the right packaging material. We sell removal boxes. Moving packaging kits for large or small moves.
Book their removal with reliable Man with a Van hire service in advance.
Help them with their unpacking after a move too.
Help them settle into their new home. Moving to a new home can be unsettling for an elderly parent. Put their personal belongings such as family pictures out. So they feel more comfortable to help them get familiar with their surroundings.
Moving Elderly Parents to Assisted Living
Whether you are just taking care of elderly parents from near or far or your elderly parents moving in with you. We all are perfectly imperfect. Hence, remember a simple rule, life is all about give and take, whilst helping others has various return benefits as well. Also note that when little ones are in need, parents assist them whilst praying for their long life. Yound may also be old one day, so is it not our duty to assist them when they are most in need?
Taking care of elderly whilst also gaining their blessings is a wise move. Conveying an impression of aged goodness and benevolence to subsequently teach your children how to live a life and set a example for their children. Just like a friend in need, is a friend indeed. We hope this info on moving elderly parents into your home would assist you at every step of the way, best of luck.
If you are young whilst your mid age venerable parents are not dependant. And you feel it is time for you to leave the nest. Perhaps because of education, job, partner or maybe you just need your own space to experience how life actually is in the real world. Then discover how to move out of your parents house tips and best hacks for a hassle-free transition.