Temporary Parking Permit in London for Moving
Applying for a Temporary Parking Permit for any London Borough would involve contacting your local Council and explaining the situation outside your property (e.g. yellow line, red line, zigzag, bus stop, etc.) then seeking the best advice to go forward. Some councils require around seven days of advanced notice to acquire a moving permit, though it varies and is subject to availability, try to reserve removal permit sooner to avoid disappointments.
The temporary bay suspension of parking bays for your removal truck being as close as possible to your property helps expedite the relocation process and ensures your move runs smoothly on the moving day without any unforeseen major hiccups. It also saves time, energy and money.
Parking Bay Suspension as a Removal Permit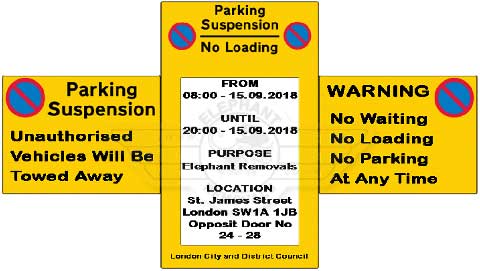 A parking bay suspension works pretty well, especially in busy areas to keep the unwanted disturbing vehicles at bay. When removal works need to be carried out smoothly or when reserving bay close by is a must for easy access, do opt for this option.
However, parking bays cannot be suspended to gain preferential parking or for other non-essential reasons. This is also due to the amount of cost involved, in most cases, the price for this is almost equivalent to a Parking PCN (i.e. Penalty Charge Notice), but with guaranteed close by parking capability. Any vehicles parked within the suspended time-frame can be towed away in around thirty minutes from the time of notifying the Council of such a disturbance.
How to reserve Parking Dispensation for Property Moves
Arranging a Parking Dispensation well in advance means a higher chance of nearby spaces that can be provided by the council. However, please note that some Government Boroughs still permit an exemption allowing removal vehicles to stop when continuously engaged in a property moving process and there is no inactivity for more than five minutes.
The only downside is that some of the Ticket Wardens are not very kind due to being commissioned based system. In this scenario, keeping a lookout for them would be a wise move, and when confronted, client clarifying the situation works better than removal staff explaining, as they tend to be a lot easy going with clients, probably because they have seen them in the area before.
Learn How to Arrange Parking Permit for Your House Move
Most London Borough councils require advanced requests to provide Parking Bay Suspensions, varying from 24 hours up to 3 weeks, therefore we recommend you don't leave it for the last minute.
Elephant Removals recommend that you ascertain whether permission will be required for parking during your house move or you think parking would be a problem on the move day. Please contact your council directly by phone or visit your council website and apply for parking permit online for your house removals london.
More Help on Removal Parking Permit London and Moving Suspension in Your Local Area
Find a list of all Greater London Boroughs to get information directly from their website concerning Parking Permit London, fees and when and how to apply online for a parking suspension.
Barking and Dagenham Council
Civic Centre
Rainham Road North
Dagenham
RM10 7BN
20 8215 3005
parking@lbbd.gov.uk
Barnet Council
Building 4
North London Business Park
Oakleigh Road South
London
N11 1NP
020 8359 7446
Bexley Council
Civic Offices
Broadway
Bexleyheath
DA6 7LB
020 8303 7777
permits@bexley.gov.uk