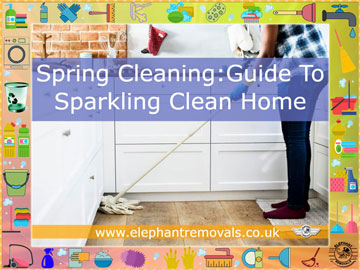 Spring Cleaning Guide - Deep Clean Your House
Must-know cleaning hacks you'll wish you'd known sooner. Its time to Spring into action. The sun is shining the daffodils are out. And you can see the dust that has settled over winter. Spring cleaning is a tradition that allows us to freshen up our homes and get them ready for the season ahead.
We've put together a jaw-dropping spring cleaning guide to help ease the overall process. Of course with tried-and-tested tips and tricks to turn every corner of your home into a desirable sparkling dwelling.
Spring Cleaning Tips and Tricks
Here are a few Home Spring Cleaning tips and tricks.
Set a set time each day to spring clean. Some people feel that a timer is handy. You can set it for 20-30 minutes focus on your cleaning task and then get on with the rest of your day.
For others, you may only have a couple of days free so this method won't work. However, you can still do the springtime cleaning in chunks. Tackle one room at a time. Rather than trying to clean all your house at once.
Have all your spring house cleaning products in a spring cleaning bedroom basket. It will make it easier for you to move from room to room. Without wasting time looking for your products.
Organise and clear the clutter.
Get the Family Involved.
Establish New Cleaning Habits. Simple 15-minute cleanup routines practised every few days. Each including a series of 1- to 2-minute chores. Can make it remarkably easy to keep your home clean and tidy all year long.
Check out our 'how to declutter home fast' for some tips on how to declutter.
Contact us if you need a man with a van to take your belongings to storage or the tip!
Spring Cleaning Checklist
*Your Phone
Your mobile phone probably harbors more germs than your toilet seat! Give it a once over with an alcohol wipe to get rid of germs. Also clean other electronics, like your TV remote and laptop.
* Your Ceilings
Spring cleaning season is all about focusing on the spots you forget about the rest of the year. Use an extendable duster and clean ceiling fans and lights.
*Your Furniture
Pull furniture away from walls and vacuum behind and under it. Switch the upholstery tool on your hoover to go over both sides of cushions and underneath them.
* Your Closet
Go through clothes and shoes from the season that's just ended. Remove anything stained, in need of repair or worn out. Ask yourself, Did I wear this last year? If not, was it because there was never the right occasion, or do you just not like it?
Things to Deep Clean in Your House
* Your Washing Machine
Disinfect your washing machine by running the special washer cleaning cycle with bleach. Or using a washing machine cleaner.
* Your Dryer
You should be removing the fuzz from your dryer's filter after every load. For the lint that gets stuck deeper inside your machine. Pull out the crevice tool on your vacuum to suck up debris and use a thin brush for spots it can't reach. Vacuum under, around, and behind the dryer as well.
*Your Vacuum
Replace the bag, clean the dust cup, and replace or wash the filters. Snip threads snarled in the brush with scissors.
* Your Broom
Getting rid of the dirt that ends up getting stuck to bristles. Swish the broom head around in warm, soapy water, or vacuum it with the end of the vacuum hose.
*Your Mattress
Hoover your mattress on the top and the sides. Then rinse with a damp cloth and blot dry. Steam from a garment steamer or iron this will also kill dust mites near the surface. Vacuum afterwards. Can also use bicarbonate of soda to deodorise your matress. Sprinkle over all your mattress and leave for up to eight hours. Vacuum any excess powder.
* Your Curtains
Put your drapes, curtains, and even throw pillows in the dryer for 15 minutes on the air-only cycle. Rehang them immediately to prevent wrinkles.
Best Way to Deep Clean House
*Your Bookshelves
Go through your library. You can coordinate books by colour, or sort by size. And give them all a dust.
* Your Kitchen
Clean out a draw/cupboard at a time. Throw away any damaged cutlery. Clean out your fridge/freezer throwing away any old food. Give your oven or good clean with an oven cleaner or bicarbonate of soda.
* Your Bathroom
Clean out your bathroom cabinets. Throwing away any old products or products you haven't used in the last year. Clean all the surfaces and tackle any mold. Put your shower curtains in the wash (check the washing instructions). To tackle limescale spray white vinegar on your toilet and sink and leave it to work overnight. For showerheads, fill a bag with white vinegar. Tie it around the head. Leave it to break down the limescale overnight.
* Deep Clean Your Carpets
Get spring cleaning prices for either a carpet wash machine or house spring cleaning services from a reputable spring cleaning company. To give your carpets a deep clean. Remember to give all your woodwork a good clean before getting the carpets cleaned.
* Outdoor Spaces
Sweep up cobwebs and debris with a broom. Wash walls with a solution of all-purpose cleaner and water using a polyester sponge. Wash outdoor furniture. With mild dishwashing liquid and water and a soft-bristle brush.
Thanks for your interest in our spring cleaning guide. Spring cleaning will have a long-term future impact on your housekeeping duties and towards sanity of your home with deep disinfecting and organisational skills. If you have to, after hiring deep spring cleaning services or DIY clean, remember to make the most of the outdoors and enjoy spring too!