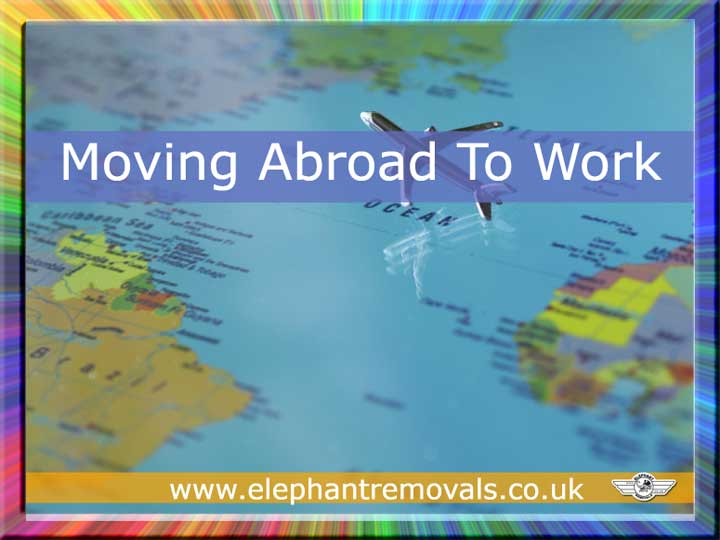 Moving Abroad To Work
People want to move abroad for a range of reasons. These could include wanting a change of environment, the quest to find best jobs to move abroad. Maybe you want to live in a warmer climate? Or you could have a family and feel the schools abroad are better for your children.
If you are moving abroad to work, here are a few tips on how to move abroad and work from one of the best relocation company.
Relocation Jobs Abroad
Plan
There are many opportunities to move abroad for work, change in new lifestyle or simply join other family or friends, however, this takes a lot of advance planning. You have to first find a job. Then apply for a visa. It's recommended you start preparing ahead for at least a year.

Get the job first
Nowadays, many people work online. So they may already have a job before moving overseas for work. If you don't, the first thing you need to do is to get a job.
Having a job lined up before you move. Will give you greater security. You can also ask your new employer if they can help you with your visa, or even a relocation package.

Visa
At the moment if you are moving from an EU country then you have the right to work in any other EU country. (Not sure what will happen with Brexit, so this could change). If you want to live elsewhere you should research visa requirements. Remember that every country has different rules.

Check Out Your New Environment
It is important that you do some research before you go abroad. This will help you to become familiar with your new country before you go and will help you settle in.
Get familiar with the correct etiquettes. Learn a few greetings. Consider taking a crash course to make you feel more comfortable when you arrive. Learn about the culture and the dress so you don't have a culture shock!

Travel guidebooks are great to get an overview. Speak to people that you know who have lived and worked abroad. To get a first-hand account of their experience. Bearing in mind that it doesn't mean your relocating abroad for work experience will be the same.

You can also join Facebook groups and ask others that live in the country questions. Social media is also a great way to start building your network.
Work In Another Country
People move and work abroad for vairous reasons, you may want to work in another country to earn more income.
The top 5 countries that you can earn more money are:
Luxembourg
Switzerland
Iceland
United States
Netherlands
source: https://en.wikipedia.org/wiki/List_of_countries_by_average_wage
How to Get a Job in Another Country
Get clued in, launch your global job search via leading international job web platform.
Start following the overseas news to see what's hot.
Perhaps work for a company that can get you a foreign transfer and then select your preferred city.
Localize your resume by adapting to their way of spelling and if needs be, translated into their local language.
Convince the firm you are a perfect candidate for the job and can be a great asset.
Reach out to every past contact including teachers, former employers, network of friends and family with intercontinental connection.
Even if your virtual interview doesn't match, be flexible and adjust to their time zone.
Practice and perfect your video call interview skills as this may be a likely outcome.
Working Abroad Checklist
Here is a checklist of things to do before you work abroad.
Moving Fund
There are always costs involved with moving abroad. These may include travel costs. One month's rent and a security deposit upfront.
You might also have to buy a few things that your new house is lacking in, such as furniture.
Bear in mind you may have to wait a month before you get paid in your new job.

Take Care Of Things At Home
It is important that you make a plan of all the things you need to do before you leave. So that you tie up any loose ends.
If you are renting you should look at your tenancy agreement to see how much notice you have to give.

Packing
Make sure you plan what you want to take with you. How much luggage you will travel with.
Make sure you know if your new home abroad has furniture. Pack the things that you know you will need to take with you.
We offer international moving services. As a fully insured international moving company. We globally ship items from as little as 2 boxes up to a 40ft container.

Storage
This comes down to how much stuff you own. And whether you're keeping your property or planning to take everything with you. A move abroad is a great time to go through all your belongings and downsize. Decluttering is a good idea before you move abroad. Long-term storage is available with us. You can safely store anything from a single household item to full house content.
Remember, you are not just going on a small vacation, you are moving abroad for work! It should not matter if it takes a few months or a year. From the moment you start looking to the time you begin your journey to working abroad like a champ, it takes proper exploring and correct advance planning.
So do not let this deter you! As soon as you have adjusted yourself into your new role, made new friends, adapted to the new culture, surpass in expat living then your efforts will pay for itself. If your employer never wants you to return home, do not be astonished as this only means you are heading towards a brighter future.
Elephant Removals and Storage Moving Company wishes you the best of luck with relocating overseas for work and your new life abroad.