Man with a Van in London - Hire Removal Van and Man Service
Our Man and Van London service covers areas around M25 at an affordable discount. Discover amazing rates and save with expert moving Van plus Man Company.

Professional Man and Van in London Guaranteed
Van and Man Service in London is a perfect solution for a single item relocation or small light moves and with more men added, for all your moving needs. Hire a man and van service from a legitimate trusted registered moving company for house removals or office moves 7 days a week. Van plus man = happy move.

London's Favourite Man Van Service with no Hidden Charges
Our prices include all taxes (including VAT) with No premium charges on evenings or weekends, no hidden extras., Please note: we operate on a first come, first serve basis, try to book sooner rather than later to avoid any disappointments.

Fully Equipped Vans with Specialist Trolleys
All vehicles equipped with SatNav, GPs Tracking system, removal blankets, railings, straps and special four wheel trolley which can carry up to 9 boxes at a time which can be handled by one man with a van. Don't delay and call today, to experience a wonderful day!

Why Use London Man Van Hire with Our Moving Company
We are a professional, reputable, registered, and also VAT listed company, therefore comparing our services to a man and van person would be an injustice to us. Many in the field are unpunctual (late), unreliable (may not come at all), uninsured, unregistered, inexperienced, have smaller vehicle (more trips), not fully equipped and some are even opportunists, who can run away with your goods as you sometimes hear in the Local News, Click Here for more info on just one of the most famous heartbreaking stories.
Get Top Man and Van service for House Removals across the UK by one of the premier Moving Companies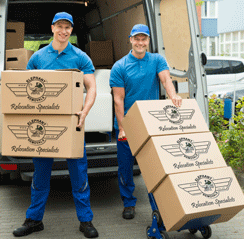 Whether Furniture Removals, Packing, Storage or Events, if you are looking for a reliable, capable, pleasant and professional man and van hire company in the greater London city for items collected or delivered by a strong man with a van service in the UK, then you've reached the correct relocation company.
Elephant Removals is a secure, dependable and express removal company, East or West and throughout the North and South of the UK, offering one of the best house and office removals services around at fantastic prices with gentleman and van, the perfect removalists.
Man and Van Prices for Luton plus Truck Rental in Greater London
Title:
2.5 Tonne, Panel Van LWB Sprinter Van
3.5 Tonne Large Luton Box Van LWB
3.5 Tonne Extra Large Luton Box Van - XLWB Dropwell With Builtin Ramp
Measurements:
W=170cm, L=240cm, H=150cm
700 Cubic Feet
800 Cubic Feet
Suitable For:
Suitable for Small Moves
Suitable for 1-2 Bed House Move
Suitable for 2 - Small 3 Bedroom
Pricing Per Hour:
Panel Van + 1 Man £40 phr
Panel Van + 2 Men £50 phr
Panel Van + 3 Men £60 phr
Price per hour Inc. VAT & Insurance
Luton Van + 1 Man £55 phr
Luton Van + 2 Men £60 phr
Luton Van + 3 Men £70 phr
Price per hour Inc. VAT & Insurance

Large Luton Van + 1 Man £65 phr
Large Luton Van + 2 Men £70 phr
Large Luton Van + 3 Men £80 phr
Price per hour Inc. VAT & Insurance
Minimum Hire:
Minimum Hire of 1 & Half Hour
Minimum Hire of 2 Hours
Minimum Hire of 3 Hours
Truck Rental Rates in Greater London for UK Moves
Title:
7.5 Tonne Rigid LWB
12.5 Tonne Rigid LWB Truck
17.5 Tonne Plus Trucks
Measurements:
1200 Cubic Fteet
2000 Cu.Ft.
Large
Suitable For:
Suitable for 3 - 4 Bed House Move
Suitable for 5 - 6 Bed House Move
6 Bedroom Plus
Pricing Per Hour:
7.5 Rigid Truck + 1 Man £89 phr
7.5 Rigid Truck + 2 Men £109 phr
7.5 Rigid Truck + 3 Men £129 phr
7.5 Rigid Truck + 4 Men £149 phr
Price per hour Inc. VAT & Insurance
12.5 Rigid Truck+1 Man £111 phr
12.5 Rigid Truck+2 Men £131 phr
12.5 Rigid Truck+3 Men £151 phr
12.5 Rigid Truck+4 Men £171 phr
​Price per hour Inc. VAT & Insurance

For 17.5 Tonne and over, please contact us with clear requirements.
Minimum Hire:
Minimum Hire of 4 hours
Minimum Hire of 5 hours
10 Hours