Removals Porter and Crew Hire Service in London to UK Wide
Specially trained removal staff hire for casual labour to move stuff within the property for either refurbishment work or to simply change the look of your home.
Elephant Removal's staff is able to work seven days a week, and even around the clock to ensure that your contract is met. However, when the Elephant Removal Crew arrives, the team notes that they do find some customers with excessive packaging materials whilst some have lack of materials due to underestimation. It is always best practice to overestimate the amount of packing materials required for your move to be on the safer side.
Crew hire by the hour or by the day rate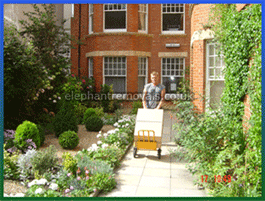 The Elephant Removals Company can supply crews to assist in following situations:
To load international Containers or Unload arranged by Shipping company.
Internal moving within the property, perhaps due to decoration or refurbishment.
Internal moves within offices.
Please give Elephant Removals team a call for a free no obligation moving quote, alternatively you can chat online via our online live support software or submit a Contact Us form and let us know how we can help you.
Man and Trolley - Crew Hire - Staff For Removal Labour
Elephant Removal Company has a full Greater London coverage and serves areas in the United Kingdom.