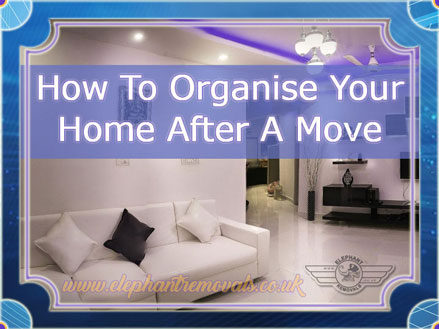 How to Get Organized After a Move
Congratulations on your move and we hope everything went well and you are settling into your new home safely. Naturally, you are stuck on organizing your home where to start phase. We are sharing some jaw-dropping tips on how to get organized after a move with extreme home organization ideas to deliver the best tricks on how to arrange new house.
This blog post will help you with basic unpacking after a move with best tips for organizing after a move. This year we want you to be mega organised. So have included more tips on how to get organised in your home after using our house removals London service.
How to Organize After Moving
Make sure all your utility suppliers are all set up.
Set a deadline for when you want to be unpacked by.
Tools - have scissors ready for cutting tape. And black bags to put your packaging in.
Make a list of the rooms you have and the furniture/belongings you want to put in them
Clean your new home. Clean everything from the washing machine to the fridge.
Decide where your largest pieces of furniture will go. Unpack them first and put them against the wall so you have more space to unpack the smaller objects.
Unpack your essential kitchen appliances. And perishable foods.
Unpack your bedding.
Unpack your daily essentials. Such as toiletries and medicines.
Unpack your bathroom.
Unpack your clothes. It is always good to unpack the clothes that will go into your wardrobe first. As they are easy to put away.
Arrange the cabinets. Unpack your books and electronics that go within your cabinets.
Unpack your kitchen - firstly unpack your appliances.
Arrange cupboards. Start with your cutlery and cups. As these are easy to unpack and arrange. The cooker. Arrange your pots and the cutlery you use for cooking near your cooker. For ease put all your detergents in one place.
Unpack your living room.
Congratulations. You've done it!
How To Organise Your Home On A Budget
This video shows you some great ways to get organised.
Organise My House Checklist
Now that you have everything organised. Use our checklist to make sure you keep organised!
Kitchen Organization
Daily Cleaning
Wash the dishes as you go along
Wipe down the sink after doing the dishes or loading the dishwasher
Wipe down the cooker top
Wipe down all the counters
Sweep or hoover the floor
Daily Organising
Put everything back that isn't in it's the proper place
Take out what doesn't belong in the kitchen out of the kitchen!
Weekly Cleaning
Mop the floor
Wipe the cabinets, appliances and kitchen tiles
Wash the dish rack
Clean the kitchen bin
Weekly Organising
Create a weekly meal plan
Write a shopping list and go shopping. Stick to your shopping list!
Fortnightly Cleaning
Clean the inside and outside of the fridge
Clean the outside of the kitchen cupboards
Fortnightly Organising
De-clutter your cleaning supplies
Reorganise your pots and pans so they are in the right spots
Monthly Cleaning
Clean out your freezer
Clean your skirting boards
Monthly Organising
Do a monthly freezer check. Use up what you can
Go through your plastic containers and recycle the ones without lids
Seasonal Cleaning
Empty and clean the insides of the utensil drawer
Clean the stove-hood filter
Seasonal Organising
Tidy up your dishes, mugs, bowls, plates in your kitchen cabinets and shelves. Remember to get rid of the ones that you don't use.
Go through all your cupboards. Throw away any food that is out of date.
Bathroom Organization Ideas
Get a bathroom organizer
Daily Cleaning
Wipe the sink
Swoosh the toilet bowl with a brush
Wipe the mirror
Squeegee the shower door
Spray the entire shower area and curtain shower mist
Wipe around the tub
Daily Organising
Put items back where they belong - toothpaste, brushes, makeup
Take items out of the bathroom that don't belong in there
Weekly Cleaning
Scrub the tub
Scrub the tiles
Mop the Floor
Empty the bin and wash out bin
Wipe down light-switches and doorknobs
Change towels
Weekly Organising
Organise your bathroom cabinets, putting away toiletries
Seasonal Cleaning
Take down the shower curtain, then launder it according to the care instructions
Seasonal Organising
Go through your medicine chest and throw away any that are not needed
Bedroom Organisation
Daily Cleaning
Pick up all dirty clothes and put them into the washing basket
Daily Organising
Make the beds
Hang up clothes. Decide what clothes need to be washed or put away
Weekly Cleaning
Change the bed sheets
Dust all the surfaces. Including books, electronics, picture frames, windowsills and ledges, and door frames
Dust or mop the floors or vacuum the carpeting, under the bed
Empty the bin
Weekly Organising
Fortnightly Cleaning
Wipe the light switches and doorknobs
Wipe down the skirting boards
Fortnightly Organising
Keep a bag and put any clothes that you don't need in it to donate
Seasonal Cleaning
Go through your wardrobe and give away what you no longer wear
Strip the bed and flip the mattress
Seasonal Organising
Go through out of season clothing and store them away
How to Organise Living Room
Daily Cleaning
Puff your sofa cushions and fold throws after
Wipe the tabletops and cabinets
Straighten your coffee-table books and magazines
Put away any CDs and DVDs
Hoover
Daily Organising
Put remotes back in the basket
Have a read through the family's schedule
Open up mail and put any junk in recycling. File any mail you need to keep
Weekly Cleaning
Dust all surfaces
Dust and mop the floors. Or vacuum the carpet
Weekly Organising
Put things back in their proper place
Fortnightly Cleaning
Vacuum the upholstery
Wipe down the skirting boards
Lift big pieces of furniture and vacuum and mop underneath
Fortnightly Organising
Seasonal Cleaning
Wash the insides of the windows
Take down curtains and wash/dry clean them
Clean the blinds
Seasonal Organising
Rearrange your books
Go through CDs and DVDs you no longer use
There are so many things to organise when moving house. We hope our house organizer page with How to Get Organized After a Move would suffice in making a best organized house. We wish you all the best in your new home. Thank you for using our house organization hacks to assist you, we hope this info on how to organise your home after a move would assist you throughout your stay in keeping it a tip-top home!