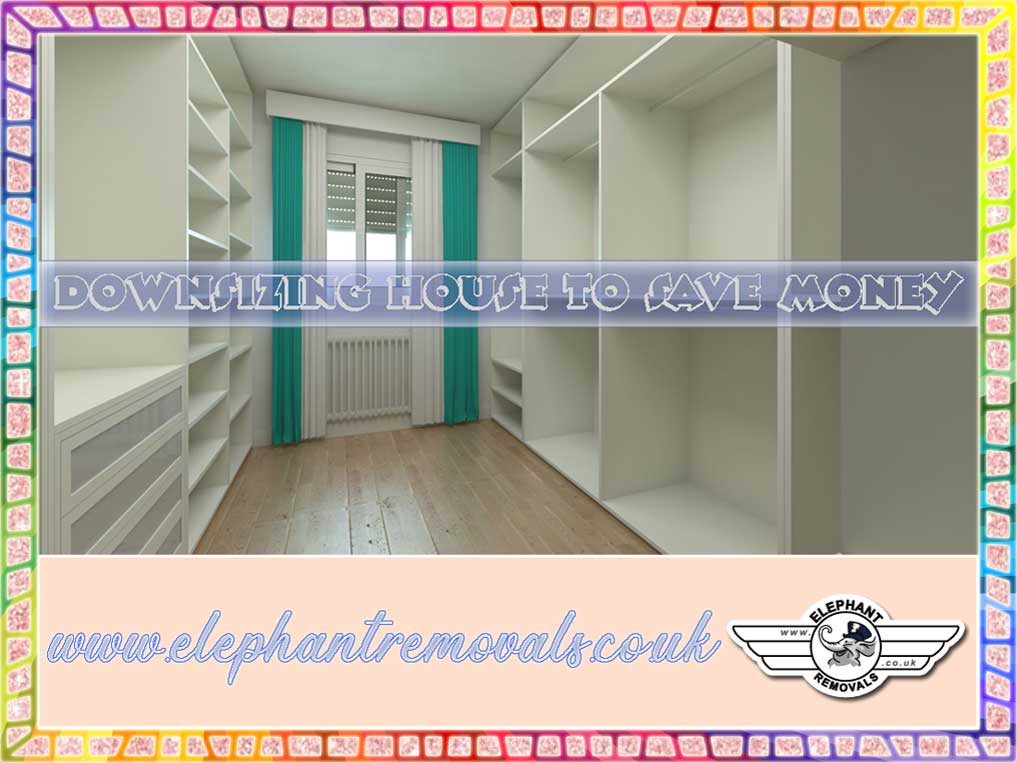 Downsizing House to Save Money
Downsizing Your Life
People choose to downsize for different reasons. Some people downsize to save money, as it's cheaper to run a smaller house. The smaller the house is, the lesser the bills. For others, it is easier to maintain a smaller house and hence are downsizing house to save money. Smaller houses take less time to maintaine and there is less space for clutter to accumulate.
For some families, their children have moved on and they don't need the extra bedrooms as their families have become smaller. The term empty nester comes to mind! However, it can be quite stressful moving into a smaller house as you won't have the equivalent space to keep and store your belongings.
Whatever your reason for downsizing house. Get in touch with Elephant Removals a Moving Company London to take the stress out of your downsizing home move.
Downsizing to Save Money
As one of the main reasons people downsize is to save money. We thought we would look into this in more detail. As it may help you with making a decision whether you should downsize or not.
Save on Bills
A bigger home means you're spending more every month to heat and cool the space. Not only is this bad for your wallet, but it's also bad for the environment because you're consuming more energy. Why pay for extra space that you don't need?

You can calculate the savings by taking the monthly total of your heating and cooling (or you can do a year) and divide your square footage into that number. This will give you a good indication on the amount of savings you could potentially make and will help you decide if downsizing is worth the trouble.

Save Money on your Mortgage or Rent
Usually, the mortgages on smaller houses are less than the ones on bigger houses. Use a mortgage calculator to work out if you will be saving money on your mortgage. If you are renting a 1-bedroom house will be cheaper than a 2 bedroom house, if you don't need the extra room then you will save money instantly.

Making Money off Downsizing
You can actually make money by downsizing. You can sell your clutter on Amazon or eBay. You can also use www.zapper.co.uk to sell your books as we mentioned in a previous post covering how to declutter your home fast.

Now we have looked at ways that downsizing could save you money. What next, how are you going to manage all your possessions, where will they go? We are sharing some tips with you, that we have seen work for our customers that are downsizing.
Downsizing Tips
The top tips on downsizing to a smaller home is to first make a list of your must-have items. You won't be able to take all your possessions into a smaller home. Ask yourself these questions when you make your list. What things can you not manage without? Is it essential that you take this possession with you? Have you used it in the last year?
Get your tape measure out. Find a similar sized room in your current house and test room layouts with your furniture. This will help you decide what furniture you should take with you. Remember to include this furniture on your list of 'must haves'.
Recycle! Don't bin your belongings. Recycle them, take them to your nearest charity shop. For furniture or books, you can book a collection with British heart foundation or take your belongings to your local recycling facility.
Thanks for reading our tips for downsizing your home. Elephant Removals wish you the best of luck on your move. We are happy to answer any of your questions and give you any advice you need to help you with your move.
We hope the info on downsizing house to save money will help you throughout the process. Elephant Removals wishes you best of luck.