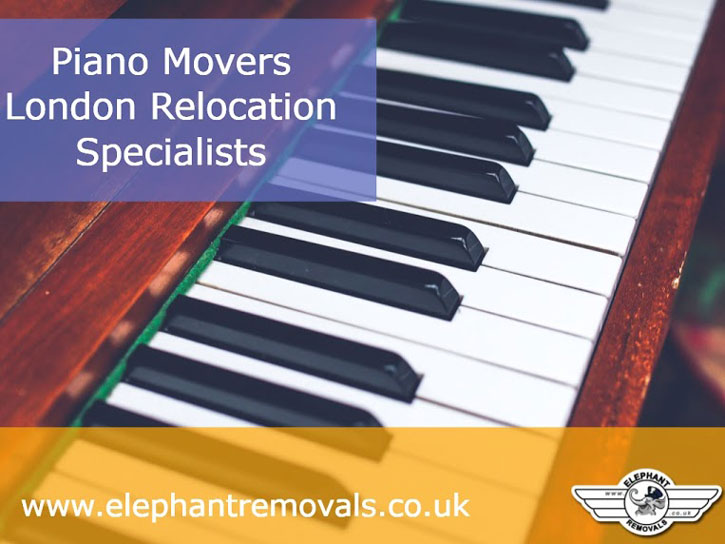 Piano Movers: London Relocation Specialists
No two people are the same and neither are peoples moving requirements. When people usually think of a removal company. They often think of large removal trucks and big house moves. Well we're here also as piano movers in London.
However, this is not always the case. You don't need to have enough furniture to fill a whole truck. People need all sorts of items moved. Ranging from a piece of art, a small collection, a piano, a sofa, a bed, a large vase, a washing machine or a pool table. We move all sorts of items regardless of their size. Our professional man in a van service is ideal for these moves.
Pianos are delicate objects. We have the expertise to move your piano with the care it deserves.
Make sure that you close the keyboard lid and lock it. If you want a grand or baby grand piano moved, ensure the three legs are removed. It would also be good if you could wrap the piano with blankets.
On moving day, ensure that the area is clear around the piano. Elephant Removals will bring the right gadgets to ensure that your piano is moved with care. It would be good for you to know exactly which location you want your piano moved to so that the move goes smoothly.
Piano Movers Near Me: We're Only a Phone Call Away
You could be faced with a partial move or a mini-move. You may not need to do a full-scale move but may just need to move your belongings from one room of a house. So seaerch for piano movers near me, we're only a phone call away.
No matter what you are moving allow Elephant Removals to support your move. Regardless of the size of your move, we know that it can be stressful to organise. We can oversee your whole move, we offer packing services and unpacking services. www.elephantremovals.co.uk/packing-services.
We will help you pack, move, transport your belongings and unpack, taking the stress out of your move.
Small Item Removals
If you just need small items removals depending on the size of your move. We provide a man and van hire service if you need a few items moved. We move single items or small collections.
We also offer collection and door to door delivery. We store your valuables in safe storage if requested. We are happy to discuss your requirements. Contact us.
If you are a student and you need to move your possessions to student halls or private accommodation check out our handy student moving checklist
Single item removals are popular with those who shop on Ebay. As some items are too heavy or large to post your only option is to pick up. That's where we come in, as often people don't have the right transport, and if you hire a van it works out to be expensive. That's where our small mover's service comes in www.elephantremovals.co.uk/small-moves so you don't have to miss out on a bargain!
You may be too busy to collect the items, we are happy to collect and deliver on your behalf.
We also offer secure storage solutions if you need to store your belongings. We look forward to discussing your requirements with you.