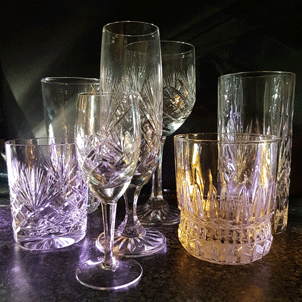 Best Five Packing Tips to avoid breakable damage during Moving Home
When moving home and it comes to the fragile natured items, the best practice is always; better to be safe than sorry! Learn how to pack like a pro.
Packing Tips for Moving Fragile Items
These are the most at-risk items during home removal, take these precautions to avoid damages during house moves...
Wrape Dishes and Drinking Glasses
Amongst the top 5 breakables, undoubtedly, drinking glasses are the first on the list, however, you can easily prevent damage by:
1. Pack them in a suitable box. The safest box to use are called "Dish-pack" boxes have thick double walls for extra protection.
2. Place glasses horizontally onto the packing paper and roll the glass in it making sure to tuck the paper's sides in. Wrap as many times as needed to secure the glass. Once wrapped like a submarine sandwich, label it to prevent the glass being thrown out with the wrapping paper when unpacking.
3. Make crumpled packing paper like submarine a sandwich to pad the bottom and the top of the box at the end. Alternatively, use a towel or any other clothes that you are comfortable with.
4. The most secure way to place wrapped glasses is vertically in the box in one layer.
5. Add a few films of packing paper between each layer of glasses.
6. Place scrunched up ball packing paper like a meatball in between to fill any empty spaces, this will also prevent glasses moving around and touching each other.
Pack Plates Vertically
Plates are usually wrapped inadequately, but preventing damages are easy. Again, by wrapping the plates with as much packing paper as needed and placing them vertically into a cushioned box. Place sheets of paper onto each layer of plates and finally fill any extra space with crumpled paper.
How to best pack Artwork, Glass Picture Frames & Mirrors
1. Use a picture box.
2. Line the box's bottom with crumpled sheets of paper.
3. Place artwork in the box and pack all sides and top of the box with paper and/or bubble wrap.
Pack Lampshades into indvidual Moving Cartons
Large and awkward shaped lampshades can be tricky to pack.
1. Use separate boxes for each lampshade.
2. Wrap each lampshade entirely in bubble wrap.
3. Fill the shade's interior with crumpled packing paper.
4. Cushion the box with crumpled packing paper and after placing the lampshade inside, secure it with more crumpled paper to prevent shifting.
Pack Stereo Equipment Vertically into a Removal Box
Placing multiple parts of stereo equipment in one box without the padding, of course, can cause all kinds of unwanted results, to prevent damage:
1. Wrap the first component in bubble wrap, completely covering it.
2. Tape the bubble wrap which keeps it in a place whilst placing the item vertically into a box, ideally a "dish-pack" box or a double-wall box
3. Wrap the next part then put it into the box next to the first one. Do not stack, but place as many as you can side by side.
4. Fill any spaces with crumpled paper, then add paper to the top for extra padding.
Label Moving Boxes
If you are seeking help from movers, make sure you label any moving cartons that require extra care with the word "fragile." This way, they will know to be more gentle when moving the box.
Use the Original Packaging Box
Whenever and wherever possible, using the original box as this would save hassle and rule out many issue. When on DIY mode, remember not to make boxes too heavy, as excessive weight could potentially cause injuries. Use small boxes for heavier items whilst making sure you've used the tape several times (i.e. glasses, plates, etc.) at least twice in both directions just in case.
Final Packing Tips for House Removals
Remember, perfection naturally comes with practice, if you are uncomfortable packing your fragile, don't stress out over these issues, relax and let house removals london professionals from our moving company London handle them for you. We can either part (just fragile) or full pack. We adjust our services to match your needs and create a bespoke package. Rest assured your belongings are packed correctly by our professional packers.