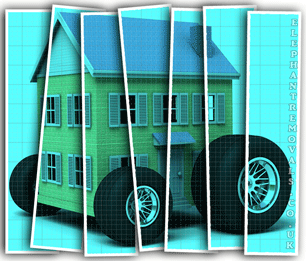 Seven Easy Step Guide to Moving Home
Whether you are moving somewhere near or relocating to another city, moving home is a challenging task and, unless you are well prepared, it can be exceptionally stressful. The great news is that if you plan in advance, the possibility for things to go wrong is significantly reduced.
Elephant Removals Company has compiled a Seven Step Guide to help with Moving Home and to make the overall experience as easy and hassle-free as possible.
Step 1:
Moving with minimal Furniture to full Home Move
Moving with minimal furniture is possible, however a full house of furniture puts you at a higher risk of injury, as well as potential damage to your belongings and premises. Safety being the utmost priority, hiring an experienced removal company will prevent these dangers. Although with a good removal company it is extremely rare, but always make certain your items are insured in case of accidental loss or damage.
We have over 15 years' of experience in local and national removals. You can get a free, no-obligation moving quote from us by calling 020 88 77 92 63 or contacting us online.
Step 2:
DIY Packing can be stressful when moving home
In fact, worst when unprofessional packing ways leads to catastrophic consequences. It is always a wise decision to hire a good removal company for packing too as many usually offer professional packing services. If not for all, at least consider part pack for items you are not comfortable with.
Step 3:
Get organised a month before your moving date. This includes:
1. If employed, book a day or two off work
2. If landlord is involved, give an advance notice
3. Contacting telephone/utility providers informing them of your move
4. To minimise stress and keep your pets and children safe, consider asking family/friends if they can look after them on the day of the move.
5. Declutter your belongings and sort them into items you want to take, items you can sell, give to charities or recycle and items to throw away.
6. If you are packing yourself, make sure you have enough materials – boxes, padding (tissue paper, bubble wrap) and parcel tape – ready to start packing at least two weeks before you move. We can provide any packaging materials you need. However, please note that 90% of customers underestimate their moves, therefore, order sufficient amount to avoid the trouble of reordering with a minimum order free delivery eligibility.
Step 4:
Two weeks before your move:
1. Contact your moving company with final details
2. Contact your telephone provider and ask for the phone in your new home to be connected
3. Arrange building/contents insurance for your new house
4. Tell your local authority about your move
Step 5:
A week before the move pack everything except items you are likely to need and:
1. Pay all outstanding bills
2. Redirect your mail
4. Place valuable and important items (i.e. birth certificates, passports, jewellery, etc.) into a safe place
5. Get a TV licence for your new house
6. Inform authorities/other relevant people of your move
Step 6:
Day before your move:
1. Last-minute packing, keeping a box with essential items seperate (i.e. kettle, coffee, teabags, mugs, toilet paper, a torch, spare batteries and bulbs, etc.)
2. Disconnect appliances and defrost your fridge/freezer
3. Check with suppliers to ensure that utilities (gas, electricity, phone, water) have been switched on in your new house
Step 7:
Moving day!
1. Check appliances are disconnected
2. Turn off utilities at the mains (gas, electricity, water) before departing
3. Close/Lock doors and windows before setting off
4. To make packing easier make sure boxes/furniture are placed in the correct rooms.
For the more information about Home Removals London you can found at www.elephantremovals.co.uk
Guide to Moving Home