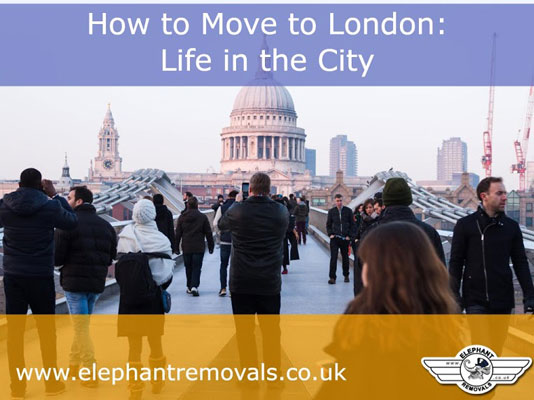 How to Move to London - Life in the City
How you manage your expectations and how to move to London depends on where you are moving from. If you are moving from a small village, for example, moving to London can seem daunting, as life in the city is fast-paced, it's busy, people rushing everywhere. You will meet Londoners, day trippers and tourists in London. It will most likely be a very different experience to the one that you are used to.
The atmosphere in London is always vibrant and lively. There are so many things to see and do in London, it is an exciting city. Day or night!
We have some house removals have some tips to share:
Decide on the type of accommodation that is suitable for you and your budget. You can buy your own place, rent, house share, flat share. 60% of your pay goes on your rent (if you are one of the lucky ones).
When deciding on which area you want to live in, take transport costs into consideration. Sometimes it is cheaper to live further from your work or university as some areas can be expensive to live in. You can buy a student oyster card to get a discount on your monthly travel card to save some money.
This tip is obvious but make sure that you have a secure job that pays well to cover your rent and living expenses.
Book your man with a van as soon as you know your move-in date, to ensure a stress- free move.
Moving to London With Family
If you are moving to London with family you will have other things to consider. Such as;
Accommodation - finding suitable accommodation that is the right size for your family also ensuring that you can afford the rent or mortgage.
Area - with family it is even more important to make sure that you live in a safe area, it would be a good idea to speak to colleagues and people that you may know that live in London who can advise you. It would also be worth checking the area out yourself, take some time out to visit the area, walk around the area to get the feel of it.
Schools - when deciding on what are to move to you should have a look at the schools in the area. You can have a look at reviews and their Ofsted reports online before you make a choice.
Parks - London has some lovely parks which is something that you can also consider when deciding on the are you would like to move to.
Storage - if your move in dates overlap than you can use our storage services.


Things to Know Before Moving to London
Here's a great list things to know when moving to London.
Fast Paced - London is a city which is very fast paced, so be prepared! Some areas are quieter than others to live in.
Public Transport - If you use public transport add time to your journey, as there are often delays. People leaning on tube doors, the famous engineering works and sometimes there just appears to be no reason why there are delays.
Doors! - Don't expect people to open doors for you! Everyone is in a rush - when standing on the escalators stand on the right unless you are walking up the left-hand side of the escalator, otherwise be prepared!
Social Life - Even though London is a busy city, you will meet some lovely people here and make some really good friends. People from all over the world live in London. There are so many things to do in London you will never be spoilt for choice!
We hope our things to know about London before moving there guide have given you enough info. We wish you the best of luck with your move to London. If you have any questions about moving to London please feel free to contact us, as we are more than happy to assist.