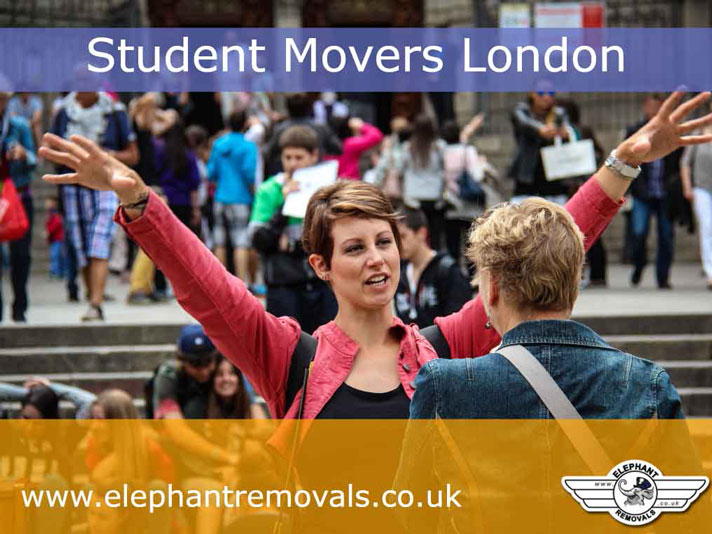 Student Movers London
Going to University is an exciting experience, whether it's your first year or your last year. London has 40 higher education institutions, it has a student population of more than 400,000. Students from all over the world are moving here. Some students are attracted to the prestigious Universities, others are attracted to the vibrant city. Elephant Removals has an outstanding service called student movers London, with over 15 years of experience - we have helped plenty of students take the stress out of moving to university and home again.
Student Moving Van
Some students choose to move into the halls of residence. One of the advantages of the halls of residence in London is that students from different Universities across London live together. All the bills are included plus the maintenance, so you don't have to worry about extra costs. First year students get priority, often in London students stay on in the halls of residence for the rest of their degree because of convenience and cost.
Others prefer their own space, and would rather rent a flat with friends. Whichever accommodation you decide to move into, we offer student moving services.
Cheap Student Removals
We understand that students don't usually need to have an entire house moved and are always on the lookout for cheap student removals. We are pleased to offer our small removals service for students. Whether you are moving into student accommodation or you are moving back home, no move is too small for us.
If you have any questions please feel free to contact us.
If you are an international student and need to move your belongings please get in touch with us to discuss your requirements.
Student Moving Checklist
It can be overwhelming deciding what to pack when you are going to University. We have created a student moving checklist to help make your move easier.
Bedding
Check with the halls what bedding they provide before buying new bedding.
Duvet
Duvet Covers x 2
Bottom Sheets x 2
Pillows x 2
Pillow Cases x 4
Bath Towels and Hand Towels x 2
Clothes
Casual clothing, jeans, shorts, t-shirts, blouses/shirts
Jumpers/cardigans
Underwear/socks
Shoes
Party wear
Winter coat
Pyjamas
Gym/sports clothes and trainers
Kitchen Items
Washing powder/fabric softener
Washing up liquid
Washing up sponge
Saucepan Set
Frying pan
Oven tray
Spatula
Wooden spoon
Ladle
Mixing bowl
Measuring jug
Mugs x 2
Glasses x 2
Bowl x 2
Plates x 2
Tablespoons x 2
Teaspoons x 2
Forks x 2
Knives x 2
Knife
Tin opener
Bottle opener
Potato peeler
Potato masher
Grater
Chopping board
Colander
Sieve
Tea towels
Dishcloths
Oven gloves
Tupperware
Bathroom Items
Personal skincare products
Prescription glasses (if wearing them)
Contact lenses, cleaning solution
Shower gel, shampoo, soap
Shaving cream/razors
Toothbrush / toothpaste
Hairbrush/comb
Personal hygiene products
First Aid Items
Painkillers
Antiseptic cream
Plasters
Stationery
A4 file paper and notebooks
Pen drive/memory stick
Pens
Highlighters
Post-it notes/ flag markers
Push-pins
A4 ring binders
Lever-arch folders
Paper/plastic wallets
Student planner/diary
Electronics
Laptop
Charger
Mobile
Charger
Documents
Passport size photos
Passport
Driving licence
NHS number
Documents related to your accommodation
Confirmation letters of your scholarship or bursary if applicable
Any information from your LEA/the Student Loans Company
Bank or building society details
Details of your health insurance (overseas students)
Travel discount cards (16-25 Railcard)
​

​Student Movers London