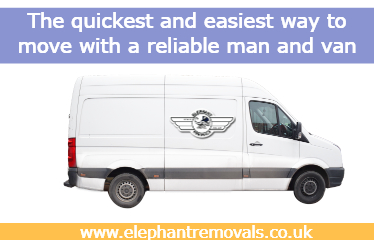 The Quickest and Easiest Way to Move with a Reliable Man and Van
Time is running out. The day of your move is around the corner. You might be moving from your flat. Or moving office and need a reliable man and van. What now?
Here is our checklist to help make your move easier. Depending on the reason for your move we have everything covered!
If you are moving out of your parent's house make sure you read our post www.elephantremovals.co.uk/moving-blogs/how-move-out-parents-house
Reliable Man and Van Hire
Whatever your reason for wanting a reliable man and van hire. Elephant Removals provide professional man and van in London.
You can also book a man and a van If you need to move a single item. We have moved artwork, sofas, beds, fridges, washing machines,
We offer an affordable service suitable for all budgets.
It is important to hire professionals to take the stress out of moving. We have 15 years of experience.
It's also cheaper than hiring a van to drive yourself. The cost of van hire, petrol, and risk of having an accident because you are not used to driving a van. Outweighs the cost of a reliable man and van hire.
Immediate Van Hire
We are happy to offer immediate van hire. If you have any questions. Or would like a no obligation quote please feel free to contact us.
Our vans are fully equipped.
A special four-wheel trolley. Carries up to 9 boxes at a time which can be handled by one man with a van.
No premium charges in the evenings or the weekends.
The quickest and easiest way to move with a reliable man and van